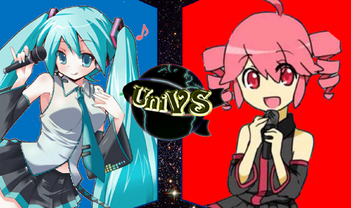 Hatsune Miku (Vocaloid) vs Kasane Teto (UTAU) is a requested episode of UniVS. Feel free to leave a thumbnail and your opinions on who would win if this were to be a confirmed episode of UniVS as well say if you want this to be an actual episode.
Description
Two HIGHLY popular text-to-sing idles have been rivals for ages. With warring companies and fanbases that love them equally! When the one-food addicted singing heroines fight to the death who will live to sing another day? Will it be our robot girl? Or will it be our chimera?
Bets
Ad blocker interference detected!
Wikia is a free-to-use site that makes money from advertising. We have a modified experience for viewers using ad blockers

Wikia is not accessible if you've made further modifications. Remove the custom ad blocker rule(s) and the page will load as expected.