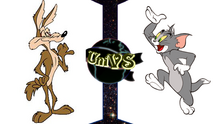 Wile E. Coyote (Looney Tunes) vs Tom Cat (Tom and Jerry). If you have a UniVS template with a picture of the two to replace the pictures, feel free. Comment your opinion on who would win and if you'd like to see this as an episode.
Connections
They're both the predators that chase their prey, the schemers that always take the hit, the slapstick kings. They always go after their prey with overly complicated plans, which usually end up backfiring. They almost never win, and be honest, most of you felt sorry for these guys once or twice in your childhood.
Opinion
I don't really have a grasp on who has the superior stats, but I'll pick Tom for one reason. While both of their plans backfire, Tom actually goes up against an intelligent mouse who crafts his own plans, while Coyote goes up against a Roadrunner who seems to just be very lucky, or he just has bad luck. It's even obvious when you watch their cartoons, although rare, Tom does occasionally beat Jerry, but I can not even think of one time when Coyote took the victory. There's a reason why the term is cat and mouse instead of coyote and roadrunner, Tom would be the likely victor.
Ad blocker interference detected!
Wikia is a free-to-use site that makes money from advertising. We have a modified experience for viewers using ad blockers

Wikia is not accessible if you've made further modifications. Remove the custom ad blocker rule(s) and the page will load as expected.